With modern technology choosing and designing the perfect security system for your home is more based around your lifestyle and what you have to protect than your budget. Lets take a look at some of the basic sysytems and what they may mean.
Outdoor lighting.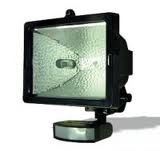 Although very basic still one of the best deterents for the oportunist burglar. Trying to survey the house or grounds get very dificult when motion detectors turn on 500 watt lights to suddenly illuminate the whole area making everyone aware of the intruders pressence. However if there is no one around to be made aware i.e. you live in a very remote area, you're on holiday or even not even there then this still needs a back up system.
For more details on the different types of outdoor/security lighting click here.
Magnetic Contact.

These are the most simple of all the systems and rely on a magnetic contacts being opened should an intruder attempt to enter your home through a door or window which will then set off the alarm.
Motion detectors
These are now so cheap and reliable that they have totally taken the place of the old style presure pads that you might remember. Spread throughout the house these will then set off the alarm telling you not only where the intruder is but even more where he may have been in the house.
CCTV

With the modern mini digital cameras that can be connected to the home PC coming in at less than £10 each CCTV or video suveilancing has quickly added a new level of security available to the average home owner. Tapping into your system, not only from your bedroom but even from your smart phone while your on holiday, you can monitor your home and the grounds from anywhere in the world and perfectly assess the response needed to protect your valuable posessions. You can see whether there is an intruder in your home or the family pet that has found a way out of its bed and gone on a wander through the house.
It can even be used to monitor the baby or young child in its bed, make sure the kids got home from school on time and if connected properly you could even answer the CCTV door entry system, convincing the visitor that your still home but not available. And finally at any given time, memory space available, record what you see for proof at a later date.
Wired or wireless Sysytems.

Generally, a wireless burglar alarm system consists of a control panel, siren and devices such as PIR sensors, window/door shock sensors, smoke alarms etc… Every wireless security component has a built in radio transmitter/receiver to enable it to communicate with the control panel unit.
As the components of this system communicate wirelessly, it is easily possible to move the components around the home without having to change any wiring. Its also very easy to add new devices such as additional PIR sensors and smoke detectors. There are however, limitations as to how many devices it can support.
Wireless burglar alarm technology is now widely considered to be just as reliable as that of wired technology, all due to recent developments. When wireless alarms were first introduced, there were some concerns that signal interference, for example, from wireless doorbells or baby monitors, might impact on the alarms effectiveness, but these issues have been eliminated by the leading manufacturers.
However there are a number of downsides to a wireless alarm system. Each device will run on batteries so these will need to be regularly checked and replaced. A more sophisticated alarm system can inform of a low battery device via its control panel display. Fortunately, most devices can run in "sleep" mode when not needed, thus conserving battery life. Be aware that poorly charged batteries may result in false alarms to be triggered.
Some materials in your property may impair (or even disable) a device's ability to communicate with the control panel. Thick concrete walls and iron/steel work will not help the device communication. Also long distances could prove a problem.
Monitored versus unmonitored systems
Unmonitored systems usually consist of an on-site alarm and/or flashing lights that indicate the security system has been breached and relies on neighbours or passers by to call the police. This type of system depends on other people reporting the incident – the alarm may go unnoticed if your neighbours are not at home or no one notices the alarm. Your neighbours, or a passerby, may also choose not to get involved. An unmonitored system is not likely a viable option in a remote or rural area.
Monitored systems contact a monitoring system by telephone. The typical sequence of events is as follows:
The security system senses a breach in security.

The security system and waits for 30 – 45 seconds before going into alarm allowing the homeowner a change to deactivate the system to prevent false alarms.
If not deactivated, the security system goes into alarm and sends a message to the monitoring company via the telephone.
The monitoring company received the message, determines the nature of the alarm and verifies the alarm, generally by placing a phone call to the home. If they do not receive the proper password or do not receive an answer, they will call the police.
The police receive the monitoring company's call and respond.
Monitoring service

Remember that no matter how advanced or extensive your system may be, it is only as good as the service that is monitoring your home. Virtually all companies offer 24-hour monitoring, but there are a few other aspects to consider:
Cellular or radio back-up – Your phone can be disabled as a result of inclement weather, accidents, equipment failures or burglars cutting your phone line. A back-up system provides constant monitoring of your system and can alert the security company when the standard phone system is disabled.
System testing – Some companies will test your system on a regular basis to verify that the system is working and that the phone line is operable.
Maintenance – Your system should be tested and cleaned regularly to ensure optimal performance. Once a year is recommended.
We employ reliable professionals who are trained to deal with all aspects of electrical faults. AA Electrical Services is a reputable installation, repair and maintenance service company covering the South East area. Our team of electricians provides you with maintenance of your electrical installation and appliances as well as a fast and reliable breakdown service. Recognising current British standards, our electrical engineers are NICEIC registered, Part P accredited and qualified to 17th edition standard, as certified by the Institute of Electrical Engineers (IEE). This enables us to offer the highest levels of professional service to you.