Kitchen lighting is as important as the lighting in your lounge or bedroom. It helps with mood and comfort in the kitchen – but there are also practical considerations. While you may eat at a dining table in the kitchen, for the most part you'll be working – preparing meals, washing up, maybe even a spot of laundry. Kitchen lighting that's effective in helping you work is key to making your time in the kitchen more enjoyable.
To get the right lighting, plan effectively. Think about how you use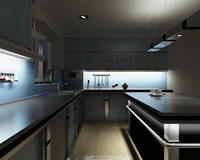 your kitchen.
Which areas are you likely to be using most?
Think about your kitchen dimensions – how tall is your ceiling?
How much space is there between the cabinets and the ceiling?
Where are your doors positioned?
Is there space for lighting on your worktops?
Having an understanding of how these issues relate to your kitchen will help you work out what lighting you need and where it will go.
What kind of lighting suits big and small kitchens?
If your kitchen is small, it won't necessarily need multiple lighting points. Usually a good set of recessed lights or a large centre light will do, as they provide good illumination across the entire kitchen space. You could also look at task lighting under cabinets for the areas on worktops you spend most of your time cutting and chopping.
For bigger kitchens, one light source usually won't be sufficient. Consider a blend of general lighting, specific lighting for worktops and spaces, and lighting to accent stylish parts of the kitchen.
We employ reliable professionals who are trained to deal with all aspects of electrical faults. AA Electrical Services is a reputable installation, repair and maintenance service company covering the South East area. Our team of electricians provides you with maintenance of your electrical installation and appliances as well as a fast and reliable breakdown service. Recognising current British standards, our electrical engineers are NICEIC registered, Part P accredited and qualified to 17th edition standard, as certified by the Institute of Electrical Engineers (IEE). This enables us to offer the highest levels of professional service to you.