When you watch a film at a cinema, the sound seems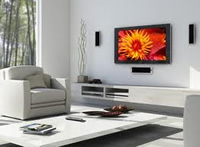 to come from all around you. Speakers placed around the walls project sound from every angle to give the impression that you're in the thick of the action. A home cinema system tries to recreate this experience in your living room. The same surround-sound information used by cinemas is also stored on DVD and Blu-ray discs and even transmitted with some TV programmes.
A surround-sound system can decode this information and feed it to speakers located around your room, giving the sensation of a cinema experience in your home.
There are numerous reasons why buying a home cinema system will improve your film watching experience:
Voices and dialogue will be clearer, so you never miss what was said.
Explosions and loud effects will be more realistic and exciting.
Ambient effects, such as chatter in bar scenes, will be clearer and add to the immersion.
Surround sound effects will make you feel more part of the film.
Moreover many modern LCD and LED TVs have poor quality speakers. Manufacturers have had to squeeze tiny speakers into their increasingly slim sets and this, coupled with the lack of cabinet space, has badly affected the acoustic performance of today's TVs. The only way to recover this audio performance is to attach the TV set to an external amplifier and speakers, either a stereo hi-fi system or a home cinema surround-sound system.
Games consoles such as the Microsoft X-box 360 and Sony Playstation 3 also support Dolby digital surround sound, and most modern games come with a full surround-sound track to accompany the on-screen action. So if you're a serious gamer, buying a home-cinema surround-sound system is a compelling option.
Needless to say needs all this needs the right kind of cable both for the sound and the vision to get the best possible overall effect and to suit your budget.
We employ reliable professionals who are trained to deal with all aspects of electrical faults. AA Electrical Services is a reputable installation, repair and maintenance service company covering the South East area. Our team of electricians provides you with maintenance of your electrical installation and appliances as well as a fast and reliable breakdown service. Recognising current British standards, our electrical engineers are NICEIC registered, Part P accredited and qualified to 17th edition standard, as certified by the Institute of Electrical Engineers (IEE). This enables us to offer the highest levels of professional service to you.